English
Subject Leader: Mrs S Stevenson.
INTENT
At St. Mary's C of E Primary Academy we want all our children in English to:
Learn as much as possible, so all children are fluent confident readers and writers.
We want all our students to develop into well-read confident speakers therefore our curriculum is driven by high quality engaging texts that children can explore and study.
Ignite Curiosity by building strong links in English to the Geography, History or Science that the children are learning.
IMPLEMENTATION
Each half termly unit is structured around three phases: reading, toolkit and writing. The reading and toolkit phase both aim to build knowledge and context of the text and provide the children with the right 'tools' to produce a quality piece of writing – 'Reading like a writer, to write like a reader.'
Teachers will ensure that they have a deep understanding of the class core texts. Purposeful text types are chosen and progression of skills documents provide staff with the opportunity to revise key skills and teach the age-related objectives for their year group.
Each half term, pupils experience a core text, companion texts and poetry. Companion texts are chosen to support the core theme and provide background knowledge. The core text is used as the basis for writing.
The Reading Phase
The reading phase is the basis of the unit as it allows pupils to develop a thorough understanding of the text. In this phase pupils will analyse extracts of texts, explore characters feelings and develop key vocabulary.
Alongside the reading phase, and additional to it are Reading Ritual lessons. All pupils in Key Stage 2, (Key Stage 1 pupils when phonics is secure) participate in three weekly Reading Ritual lessons that follow a text/vocabulary and reading skills model. VIPERS is used to structure the Reading Ritual Lessons. Teachers use Key Stage one and Two Vipers guidance in conjunction with long term reading planning to structure sequenced lessons.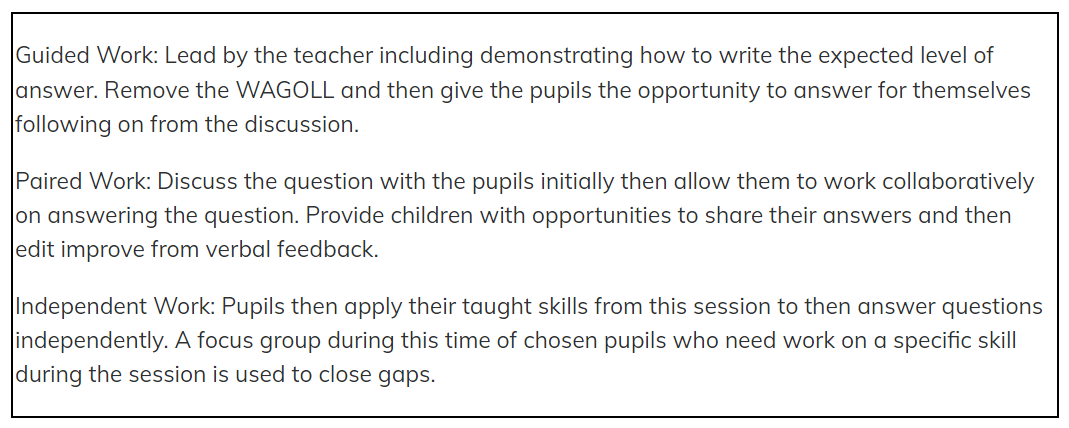 In the third Reading Rituals lesson, staff should use the Guided, Paired and Individual model to scaffold the learning.
Toolkit
The toolkit phase is where grammar and punctuation skills are explicitly taught. The skills are selected by the teacher depending on the genre of the eventual writing outcome. All the skills taught in this phase, should be demonstrated in the children's final piece of writing. Each skill taught, should be rehearsed within a short piece of writing, which can then be used to develop the final piece. Writing progression documents for each year group can be used to support teachers when planning alongside National Curriculum objectives for writing.
Writing
The writing phase consists of a supported write, and an independent write. Teachers will provide lots of opportunities for children to see modelled examples of WAGOLL and verbal feedback to ensure all pupils produce a piece of writing that demonstrates the toolkit skills. Planning for writing and the opportunity to edit and improve written work will be guided by the teacher. Children will be taught how to edit their work. Focus groups can support pupils who may need adaptation to their work.
When writing the independent piece, children should write using the same genre but with a slight change in content. For example if the children have written a setting description, an alternative setting or contracting location could be used.
Reading Phase

Initial hook to engage and excite

Prediction

Introduction to new vocabulary

VIPERS

Range of reading activities that deepen the understanding of the theme of the text

Toolkit Phase

Teaching of grammar and punctuation skills specific to the piece of writing the children will create in the writing phase

Build on prior learning by revisiting and revising previous knowledge in order to deepen understanding and application.

Constantly make links to authorial intent and the effect that the grammar content has on the reader.

Enable children to gain understanding of why certain writing techniques are used in specific genres

Writing Phase

Children write with a specific style across a few days

They use the developed working wall to support their writing

Children are explicitly taught how to edit and are given time to do so.

Children discuss the content of their writing with their peers.

Work ca be published.

Timings are a rough guide. Teachers must use their judgement and expertise to decide on the correct timings for each unit of writing
IMPACT
As we develop this approach, time will be given for staff to reflect on the strategies effectiveness in raising levels of attainment across school. We want our children to develop into confident readers and successful writers who have a secure knowledge of and can apply grammar and punctuation skills in their written work consistently.