Nurture in The Cabin
The Cabin will be used to provide Nurture support groups for children in school. These groups will be led by Jo Williamson or Debbie Stanton and will usually be during afternoon sessions. The children will be in a group for six weeks.
Nurture groups are targeted intervention groups to address the social, emotional and learning needs of individual pupils by providing the necessary help to remove the barriers to learning. They put emphasis on literacy, language development and communication too and children will develop positive relationships with both the adult and their peers in their group.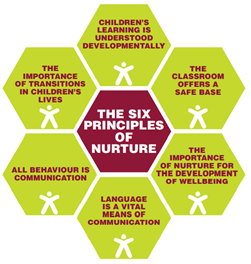 Intended Outcomes of Nurture Provision
Improved social and emotional skills
Improved attendance
Improved attainment
Improved behaviour
Improved relationships in school
Children supported well for their mental health
How The Cabin will work:
8:55am – 10am: Jo will be available to meet parents and carers
10am – 11:45am: Jo will support children in The Cabin with their work
12:15pm – 1:15pm: The Cabin will be available for children to access during lunchtime
1:15pm – 3:15pm: Jo and Debbie will run Nurture Groups